€

8.50
LAST CHANCE: xclusivx #8 BUNDLE + high quality Camixvx stickers + OUTCAST AGENDA pin!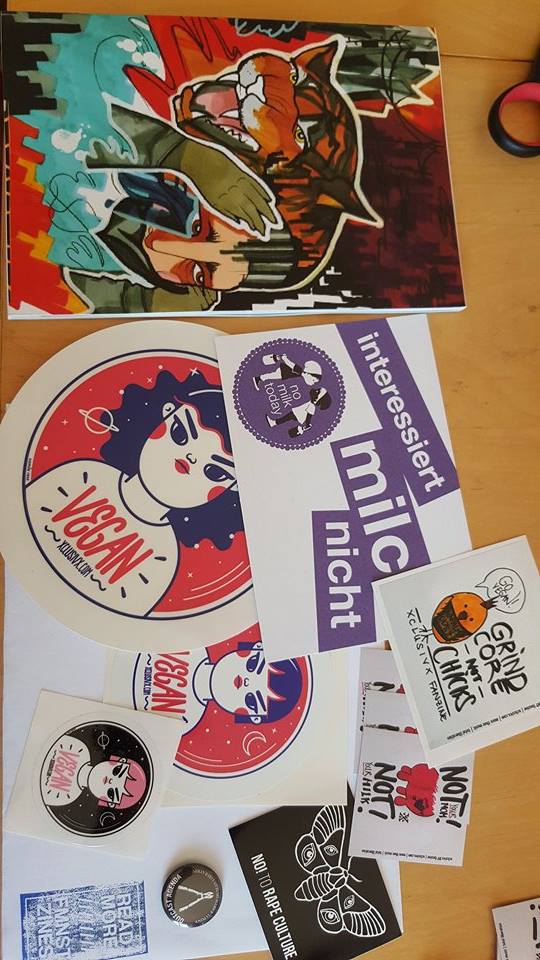 See pic for all details what your bundle includes!
You missed our subscription for zine #8 on gofundme.com/xclusivx ?
You still would love to grab a 100 paged, handnumbered zine copy?
We got 10 copies left! Be quick and get yours here.
At the above mentioned link you can still subscribe to our summer and winter ine for 2017.
MUSIC
ANTI-FLAG (5) ETHER (8) LONGCLAW (11) Schwach (14) MARICON (16) Mixixtapes (18)
Activism
RIOT TEA CLUB (23) FROGI, THE HUMANE LEAGUE (25) OUTCAST AGENDA (30) Little Bear Sanctuary (35) STacey, No! (38) #instavegans (40)
VEGAN SPORTS
Coline Hangry VEGAN Powerlifting (53) VGN NOMS
Holger's Mocktail (56) CHICKPEA MAG RECIPES (57)
Artists
Coletivo Chá (58) CAMILA ROSA (60) HEatheR,Vegan Police Shop (61)
Daniel, IL PLEUT+SOUTHCOAST RATS (64) EVA GENIE (67) ALY'S POETRY (71)
M O R E
Kortney Olson (72) Vegan Make Up Share (77) Klarissa (84) SXE Sankt Pauli (86) Feminist 'flix (90) COMICS (93) NIC'S REVIEWS (95) RITA HUMBUG (96)